In the current business environment, which brings a new level of difficulties to almost every business, sales teams are having to look closely at their company's strategic value proposition. Does it reflect the current strategy? Is it the right fit for the customer? Does it align with current buyer behavior?
Now is the time to re-evaluate. But when speed of reaction to market dynamics is the essence, there's no time for a protracted process. What's needed is a rapid, pragmatic approach.
Not only is your value proposition important for the one-on-one conversations your sales teams have with customers; it's also important for your strategic marketing and communications. Your value proposition must quickly and clearly convey what you do and why you do it better than the competition.
Tell the story of your value proposition well enough on your website and it could be just the thing to draw a potential new customer in. With 15 seconds to capture the average reader's attention, you haven't got much time to tell them why they should stay. If you don't get their attention, they're more than likely to move on to the next option – your competitor.
Defining strategic intent
Sales teams, quite rightly, speak often about the value proposition. It's something they need to be quite certain about as they explain in just a few sentences how the service or product they are selling benefits the customer.
But the value proposition is more than a sales proposition. When defined properly, it encapsulates the company's strategic intent, "which in its simplest form is an expression of the firm's unique and superior value offering," says George Tovstiga in Strategy in Practice, A Practitioner's Guide to Strategic Thinking (Wiley).
Tovstiga attributes the concept of value proposition to Peter Drucker, Gary Hamel and C.K. Prahalad in the early 1990s. Drucker then discussed it further in his "The Theory of Business" (Harvard Business Review), in which he considers three core elements of business:
1. The external competitive environment
2. Internal basis of competitiveness
3. Core purpose and aspirations
A rapid approach to value propositions
Tovstiga himself incorporates Drucker's core elements into his own concept of a strategic value proposition.
When I work with B2B companies to develop a strategic value proposition, I often base the process on Tovstiga's concept. Although his motivation was to use it as a broader strategic framework, I find it equally useful for sales and marketing purposes.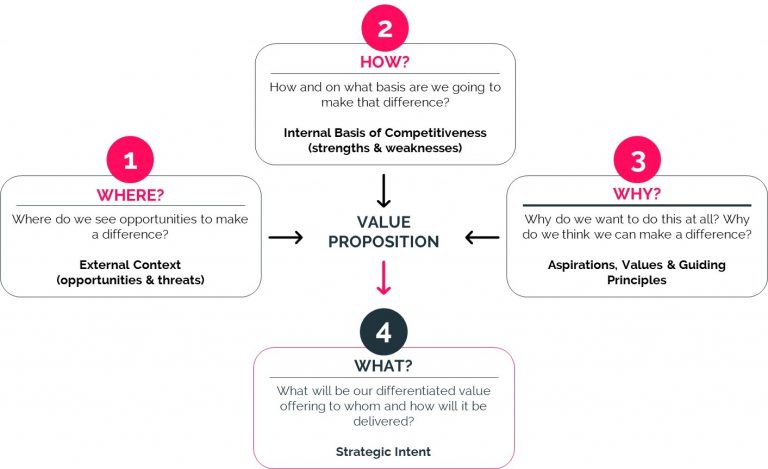 A simple, yet effective framework for gathering input for your value proposition. (Based on George Tovstiga's value proposition framework.)
The good news is that in some cases, it does not have to be a complex, lengthy process.
Recently, I worked on a value proposition for a B2B company where most of the information I needed was gathered in an afternoon session with the company's CEO, Sales Director and Marketing Director.
During this meeting, they all got the chance to tell the story of:
The market they operate in
What they sell and to whom
Why and how customers buy
How the company differs from its competitors
The overarching question we attempted to address was:
"What space do we want to own in our customers' minds and the marketplace?"
In this particular case, they were all aligned in their thinking, which made the process of analyzing the information relatively straightforward. That's not always the case, however.
In many cases, a more structured information-gathering, data analysis, and discussion process is required, which is likely to involve more workshops. This process allows people to share and discuss diverse, sometimes conflicting views, which then need to be resolved and assimilated into usable messages.
But back to the 'aligned' management team. Following the initial workshop, I deconstructed their input into the relevant sections of the model, arriving at something like this: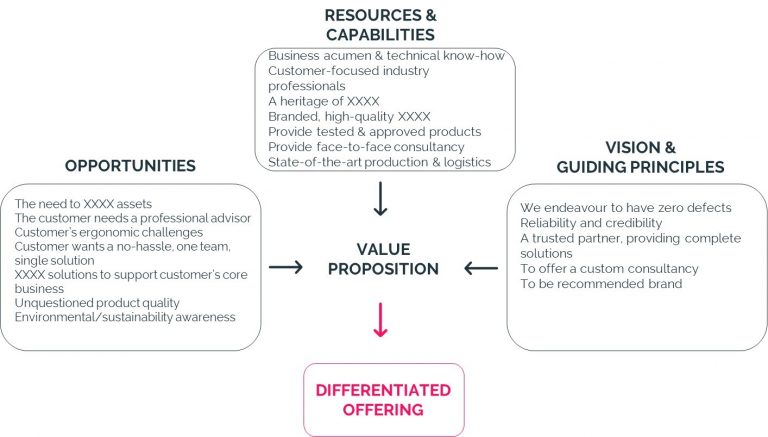 An example of how a value proposition workshop can be summarized.
This is partly an analytical task, but also creative. It's during this process that clear pictures begin to emerge of potential value propositions, as well as key messages, which I'll talk about later.
Bearing in mind that the objective is to express the differentiated offering, this is the point where I begin to articulate the value proposition into the following framework:
Target audience
Audience needs
Name of brand/offering/company
Type of offering/common terms of reference
Unique features or benefits
Outcome/advantage
Reason to believe
I often find it useful to summarize this in a table format to clearly show the messages. It might look something like this: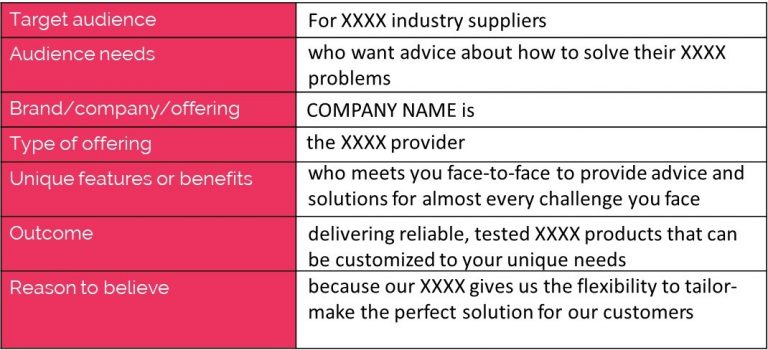 Usually, I try to create three to five versions of this table to inspire and challenge the prevalent thinking. Once there is agreement on the individual elements, I then put them together into a statement that neatly describes the differentiated value offering.
It might end up something like this:
For XXXX suppliers that prioritize high-quality products and seamless production integration,
COMPANY is the full-service XXXX specialist who will meet you face-to-face to determine the right solution for your unique needs,
because our XXXX and XXXX gives us the unrivalled flexibility to create XXXX solutions of the highest proven quality.
How can you use the value proposition?
We've arrived at a value proposition that everyone agrees with. Now, how exactly do you use it?
First and foremost, it provides a consistent way of presenting the value your company offers. It should be top of mind for all customer-facing staff and at the heart of everything your sales and marketing teams are doing.
Here at cylindr, we create a lot of content for B2B companies. The job is always so much easier when, as part of the briefing, we can refer to a strategically sound, well-articulated value proposition. Without it, it's easy for the communications to drift at the whim of the individual team driving the campaign.
It's also a good internal communication platform. Ideally, everyone in the company should know the value proposition as well as its strategic foundation. In fact, I'm sure when you get it right, it will form the basis of many fruitful discussions within the company.
Uncovering key messages
But it's not only the end result that is meaningful. The process itself also provides valuable content, such as key messages for the strategic narrative.
For example, as I was working on deconstructing the input, several consistent key themes and supporting messages emerged. So, in addition to doing the value proposition, we arrived at a large library of messages that could be used in many different sales and marketing contexts.
This became the basis for a messaging platform. Our mantra for this was "five key points we want to be known for".
Within each of these points, we could unfold stories that all connect to the strategic value proposition.
Source of inspiration
A question that many executives ask is whether they should be creating the value propositions themselves? Why get external help?
You're all intelligent people. You have good salespeople and you understand how to communicate with others.
But there are several challenges to consider when it comes to doing it yourself:
First, it takes time – preparation is vital. You don't just turn up at the workshop without taking a fresh look at your business environment and the key challenges facing the business. Experienced consultants can conduct this initial research quickly and efficiently to find the right starting point. Then, following the workshops, time is needed to analyze and deconstruct the input from key stakeholders. It involves separating and synthesizing ideas and already now, expressing key messages briefly and accurately.
Second, this process should be done at arm's length, without any hidden agendas, so that the messages are as unbiased as possible. This is just one of the ways that the business may be seen in a new light, giving rise to fresh, creative ways of expressing the value proposition.
Third, harnessing the power of words. The power of a value proposition comes from the words themselves. It takes a skilled writer and communicator to come up with a value proposition that clearly expresses the essence of the business with energy, enthusiasm and relevance. The same goes for the key messages.